Hotel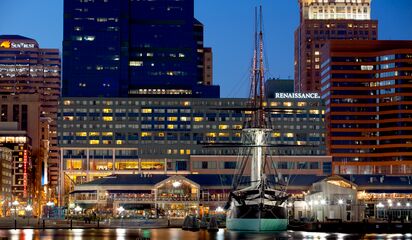 202 East Pratt Street
Baltimore, Maryland, United States, 21202

Main Phone: (410) 547-1200
Reservations
A discounted seminar rate of $159 for a standard room is currently available until March 16, 2020 or until sold out, whichever comes first.  This is a limited room block, so make your reservation today and don't miss your opportunity to stay in the seminar hotel.  Room reservations for the seminar are to be made by individual attendees directly and are separate from the seminar registration fee. Check-in time is at 3:00pm and check-out time is at 11:00am.
Online Reservations: Click here
Central Reservations line: 1-800-468-3571
*If you have any difficulties with your reservation, please contact us via email at nihseminars@highlighttech.com. 
Travel
Local Airports  (There are 3 airports serving the Baltimore area.)
Baltimore/Washington International Thurgood Marshall Airport (BWI)
Distance to Hotel: 8 miles south  (This is the closest of the 3 area airports.)
http://www.bwiairport.com 

Information: 410-859-7111 or 1-800-I FLY BWI
Ronald Reagan Washington National Airport (DCA)
Distance to Hotel: 45 miles
http://www.metwashairports.com/reagan/reagan.htm 

Information: 703-417-8000
Dulles International Airport (IAD)
Distance to Hotel: 60 miles
http://www.mwaa.com/dulles/dulles.htm 

Information: 703-572-2700
Directions from Airports to Hotel
Please note that the Hotel does not provide shuttle services. Directions, maps, and information regarding transportation options are available online http://www.marriott.com/hotels/fact-sheet/travel/bwish-renaissance-baltimore-harborplace-hotel/ 
Taxi: Taxi fare (one-way) estimates from the three major airports are:
BWI: Approximately $30
DCA: Approximately $135
IAD: Approximately $185
Alternate Transportation to Hotel
SuperShuttle: SuperShuttle provides shuttle service for the three area airports. Please call them toll free at 

(800) 258-3826

 to obtain current rates and schedules. Please allow sufficient travel time, as this service may make several stops before reaching your destination.
Car rental: Car rental services are available at all three airports. Check the Ground Transportation Center of your arrival airport's website for more information.
Light Rail: The Maryland Transit Administration (MTA) provides Light Rail service from BWI Airport to downtown Baltimore. The BWI Light Rail Station is located outside the lower level of terminal building, adjacent to Concourse E. The average fare is $1.60 one-way. More information is located on the MTA Light Rail website.
METRO/MARC Train from DCA: Train service to Baltimore is available from DCA  Airport by way of downtown Washington, DC. From DCA, you must take a 20 minute Metrorail ride to Washington Union Station. The Metrorail system is connected directly to the concourse level of terminals B and C at DCA. From Union Station, you can take the MARC Train (operated by The Maryland Transit Administration, MTA) to downtown Baltimore. The average MARC fare is $11.00 one way. More details can be found on Metrorail's  and Marc Train's websites 

Hotel Parking (prices subject to change)
On-site parking, fee: $33 USD daily
Valet parking, fee: $43 USD daily